Wilmslow Scorpions gets results at the 2020 Cheshire County Championships
05/02/2020
Wilmslow Scorpions return with 32 new pb's, 6 top 8 placings, 19 county qualifying times for 2021 and 2 regional qualifying times, after the final weekend of this year's Cheshire County Championships held at Macclesfield Leisure Centre.
Wilmslow Scorpions Cheshire County Relay Team 2020 – Pauline Busby – Chief Coach, Theo, Dylan, Stuart, Amelia, Elizabeth, Heidi, Kate, Sophie, Thomas, Finlay, Ella and Martha.
After recently achieving county level status, Wilmslow Scorpions are now looking for Regional success, after 2 swimmers gain Regional qualifying times at the Cheshire County Championships and 3 others were within seconds of also gaining Regional qualifying times.
This weekend was the final weekend of the Cheshire County Championships and it saw our Wilmslow Scorpion swimmers racing their hearts out to finish in style and boy did they step up to the occasion! As a club it saw them manage to achieve 32 new personal best times, 6 top 8 placings (finals), 19 county qualifying times and 2 regional qualifying times throughout the whole competition.
Top 8 finishes in the finals came from Ella Faulkner (10/11 age group) in the 100m Individual Medley (4th), 50m butterfly (5th), 50m Backstroke (5th), 100m Breaststroke (6th), 50m Freestyle (5th) and 100m Freestyle (6th).
The following swimmers gained qualifying times to the Cheshire County Championships 2021:
· Theo Ibeziako (50m Breaststroke, 100m Freestyle)
· Oliver Mortlock (50m Butterfly)
· Joseph Mortlock (50m Butterfly, 100m IM)
· James Dale (50m Backstroke)
· Heidi Stansfield (50m Breaststroke, 50m Butterfly, 100m Butterfly, 100m Breaststroke, 200m Breaststroke)
· Ella Faulkner (100m IM, 50m Breaststroke, 50m Butterfly, 100m Butterfly, 50m Backstroke, 100m Breaststroke, 50m Freestyle, 100m Freestyle)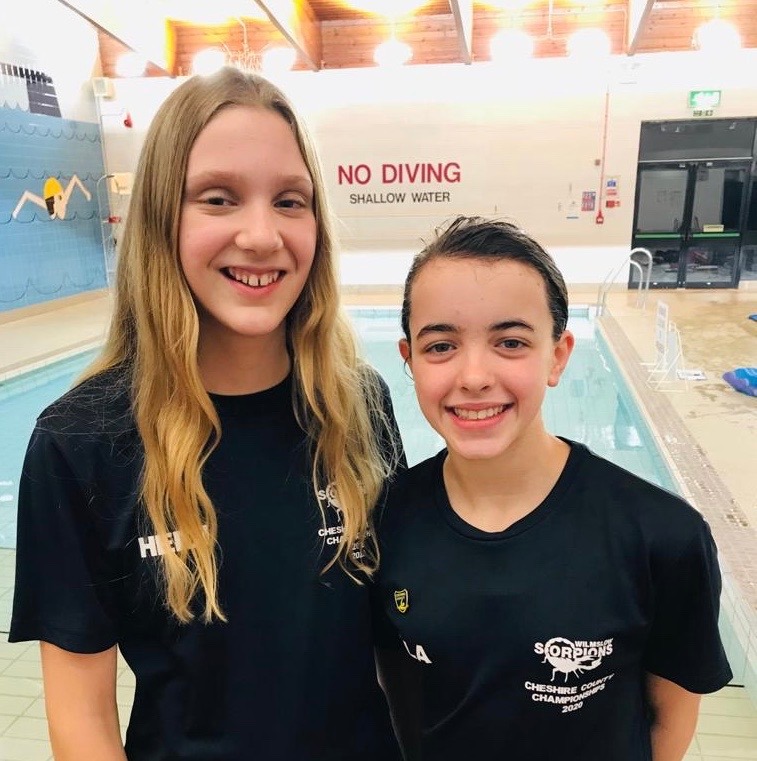 Regional Qualifiers
On the final day Ella joined in Heidi's success from the 2nd day, by also gaining a Regional qualifying time in the 50m Freestyle. Heidi had previously gained a qualifying time in the 50m Breaststroke.
Also well done and fantastic swims to the following, who joined the Cheshire qualifiers, on the final day, to take part in the freestyle relays and the cannon; Sophie McLennan (10/12 relay), Finlay Ibeziako (10/12 relay), Dylan McGrath (13/14 relay), Kate McCarthy (15/16 relay), Laura Keay (15/16 relay), Amelia Budd (open relay), Elizabeth Forster (open relay), Stuart Harwood (open relay) and Will Wilson (open relay)
Each relay team achieved PBs in their age categories. Theo Ibeziako swam a regional qualifying pace in his 50m leg of the freestyle relay, and hopes to repeat this, and join the club's regional qualifiers, at his next licenced meet.
The success at the Cheshire County Championships sees the club building on the great foundations made since turning the club around after losing its learn-to-swim offering in 2017, which led to losing 1/3 of its membership, financial losses and the possibility of closing down the club.
Paul Ibeziako, committee member for Wilmslow Scorpions, said "This is a fantastic achievement. A few years ago, the club was on the brink of closure. The committee, coaches, volunteers and parents have worked hard to ensure the club had the right infrastructure and support to make this moment happen and see our swimmers, not only achieve these results, but also have their achievements recorded in history. We are blown away and extremely proud. Good swimming and Go Scorpions!".
Special mention needs to go to our Honorary member, Lewis Brodie, who now swims for Stockport Metro. Lewis walked away from the competition with an astounding 6 Gold medals, 5 Silver medals and 5 Bronze medals for races in 12-year age group. What an outstanding achievement!! I bet his bedroom is like Aladdin's Cave!
The club would like to thank all the parents and volunteers who dedicate so much of their free time supporting the talented swimmers.
Swimming is a great inclusive sport, which helps individuals grow and improve themselves mentally and physically. At Wilmslow Scorpions Swimming Club, we actively encourage our swimmers to be the best that they can be, in both swimming and in life.
---